Here are 5 quick and simple things to include when submitting a quote or estimate to your customer
You've had the call from a potential customer.
You've been to the job, sized up the work, taken your notes and measurements, and put your prices together.
You've got a good price – and you know you'd do a great job – but how do you get all that across to your customer, and make a great first impression on them?
Introducing your paperwork the right way is vital. It's the first signal your customer receives from you about the quality of the job you'll likely do for them.
It's important to put your best foot forward – so we've put together a quick checklist of 5 things to include at the start of all your quotes or estimate to help get you that call back.
1. Hello and thank you…
Tip #1: Welcome your customer to their quote by name and thank them for the opportunity to provide a cost. Summarise what it is they're reading! What are you providing a cost to do?
This can also be your chance to show what work you've done in that street or area in the past. If they're after a new radiator, let them know you've you've fitted over 50 in the last year! (well, as long as it's true)!
People buy from people, and when it comes to trades people, customers want to avoid the cowboys. Show your human side – they're inviting you into their home to work, after all.
You might say:
Hi Mr & Mrs Jones,

Here's your quote for supplying and installing new radiators to 13 New Road as discussed.

Thanks again for getting in touch and for the chance of quoting for this project.
2. A quote vs an estimate… what are they getting?
A lot of customers won't know the difference between a quote and an estimate – you can help them understand what their price comprises of, and if the price isn't fixed, what might cause it to increase.
Your goal here is to give your customer the trust that you're going to be clear and transparent when it comes to costs. No nasty hidden extras here!
We've got a useful guide explaining the difference between a quote and an estimate here if you would like a refresh.
Example:
This is a fixed price for the work I've detailed below. If you would like more work completed, I'll price that for you separately.
3. When can you start?
They might be thinking this sounds good… let them know when you're next available to start the work and how long you expect it to take.
You're likely going to be in their home – help them understand when and for how long and you'll help them feel more comfortable about that fact.
Something like:
I'm currently available week commencing 23rd March for this project should you like to go ahead, and would expect to be finished within 4 days of starting.
4. Does anybody have any questions?
Your customer probably isn't that technical. If you're providing them a detailed quote, then there's a good chance there'll be some aspects they don't understand.
Help them feel comfortable speaking with you about any aspect of the job they don't understand or are questioning that they need, by explaining anything that might be too technical in the quote.
Or invite them to ask you questions; it's much better you have the chance to explain the work to them – or adjust what you're offering to do – rather than have them go elsewhere for the work.
You'll put them at ease and make them feel comfortable about dealing with you.
For example:
I've tried to include all the details you need here, but please feel free to ask if you need any more details, or have any other questions about this work.
5. Errrr, what now?
Told your customer what work you propose to do? Check!
You've given them your best price? Check!
Impressed them with your professionalism? Check!
What's next? well, what do you want them to do next… say yes to the work! Let them know clearly what the next step is if they would like to go ahead with the work.
Leave a few different methods for them to get in contact with you (and make the information easy for them to find – don't make them dig around trying to find your number).
It's also a good opportunity to let them know of any payment structuring that's required, so they know exactly what they're getting into if they give you the green light.
Get the go-ahead:
If you'd like to go ahead with this project, give me a call on 01992 123456 or email me at adam@thebetterplumbersco.com – I'll say thanks, agree a start date with you and send you a deposit invoice for 30% of the project total to book that date.
Bonus: Make yourself a template.
Give yourself the best chance of success when quoting or estimating new work and make it easy on yourself: create an Estimating software for an introduction that you can easily alter and use for each quote you produce.
And here's one I made earlier…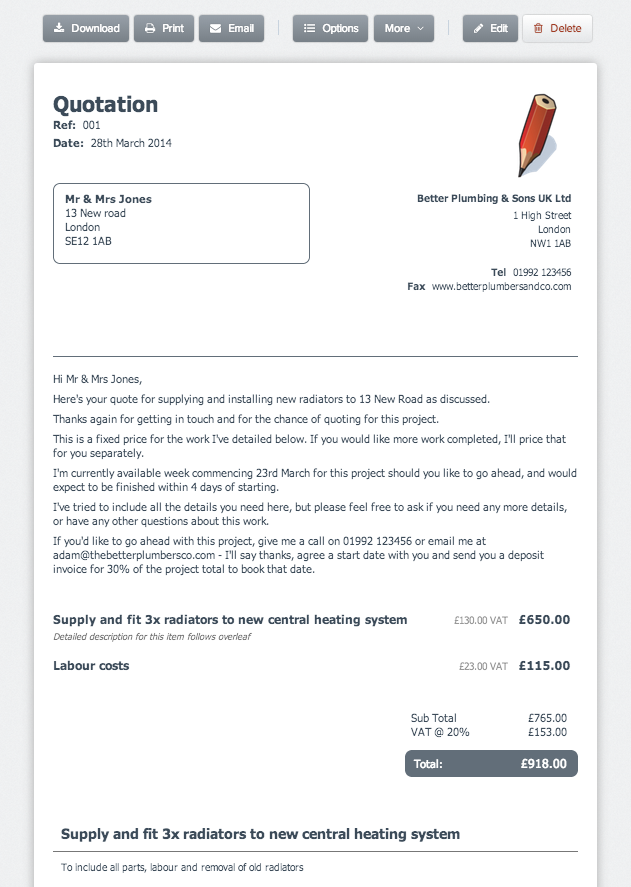 YourTradebase makes writing and creating your quotes and estimates easy – and you can do it from anywhere. Include an introduction on your quotations with ease – just start typing!
Sign up for a free YourTradebase account
Or see how a quote template could help you
and try it for yourself at https://go.yourtradebase.com