Keeping in touch with customers and sending the right messages at the right time is vital to delivering fantastic service and growing your business. Forgetting to follow-up with a customer, or not chasing a late payment, can be costly.
So we're delighted to introduce auto-messages: an easy – and automatic – way to make sure you always send the right message, to the right customer, at the right time.
Auto-messages lets you send customised, personalised messages to customers at exactly the right time… and we'll make sure those messages get sent. Meaning you can spend less time on admin by automatically sending messages to follow-up, chase, and remind customers.
You might set up an auto-message…
To follow-up quotes that haven't been replied to
To chase late payments
To thank customers for accepting your quote
To send an appointment confirmation
… and more
It's automatic and super-easy to set up.
Easily send messages… automatically
You choose which personalised email template to send and when it should be sent, and YourTradebase will take care of the rest.
Whether you want to automatically follow-up on quotes you've sent after 5 days, or chase payments the day they become due, setting up auto-messages is easy and takes just a few clicks.
Choose a trigger
Select what to send
Select when to send it
Here's how that works: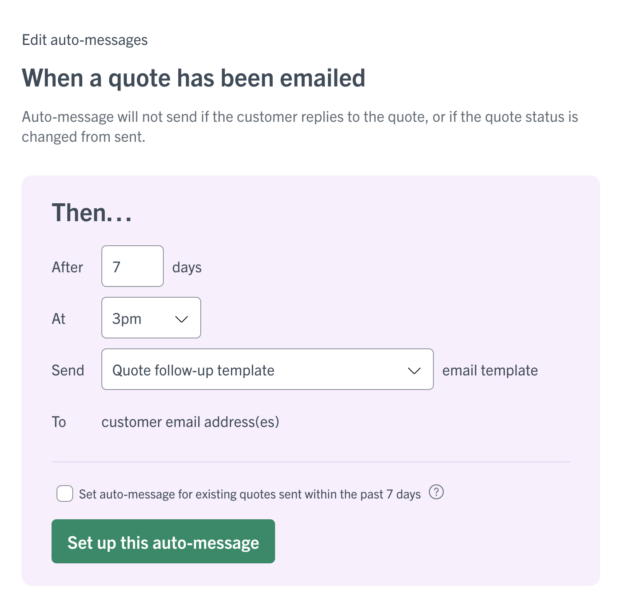 Auto-messages will auto schedule
Once you've set up an auto-message, YourTradebase will schedule that auto-message to send at exactly the right time.
So if you email a quote to a customer, any follow-ups will automatically be scheduled to send: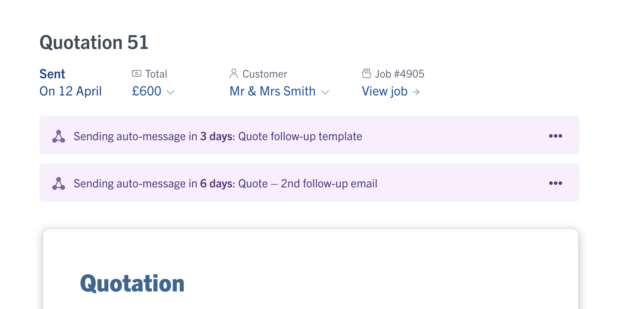 You can see a preview of exactly what will be sent, to make sure you're happy, or stop any auto-message from sending.
More auto-messages… coming soon
For now, you can setup and send auto-messages to follow-up quotes, but we'll be adding many more auto-messages over the coming weeks, to help you automate more of your customer communications.
We think you'll be saving a ton of time, winning more work, and getting paid sooner by sending the right messages at the right time. Happy messaging!