When it comes to managing your workload, remembering what to do is difficult at the best of times. Let alone when you're busy trying to get everything else done as well. On site you're busy scribbling down a reminder on anything you can; whether it's a scrap of wood, receipt or plaster board.
This is why the new YourTradeBase has Tasks as a new feature. You can now set yourself tasks, so you can keep on top of everything you need to do easily and efficiently. This way everything is in one place, letting you organise yourself and your time effectively. Just a glance at the tasks tab on your YourTradeBase account will tell you everything that you need to get done.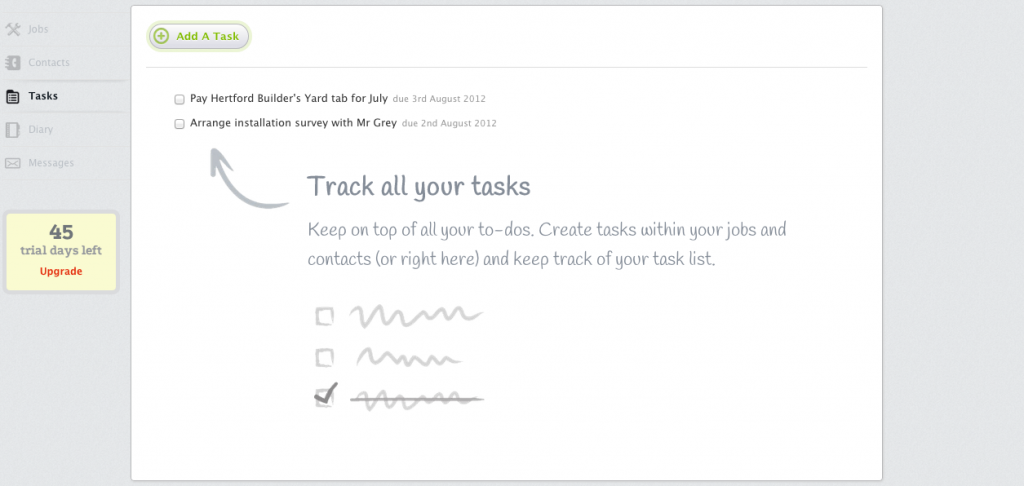 You can create stand alone tasks or within your jobs. So for instance if you're adding a new job to 'build a garden wall', you can set a task to remind you to pick up the bricks, or send out the invoice. You can also set tasks for a contacts in the same way. So if you have your local builder's merchant as a contact, you can set a task to pay off your tab for the month.
This is about making your jobs and workload much easier to organise. Leaving you with more time to get on with the work at hand!
We're still on the lookout for Beta Tester for the new version of YourTradeBase, so if you want to get involved, all you have to do is send your details to app@yourtradebase.com, and we'll be in touch. As an incentive for you helping us out, we will be giving 6 months FREE membership to all of those who do!
Alternatively you can alway sign up for a 45 day FREE trial!