This week on the new YourTradeBase tour, we're looking at how easy it is to have an overview both your jobs and paperwork.
Thanks to the new design of YourTradeBase, everything is laid out in a way to make it easy for our users to quickly glance at their work to see what needs to be done. The homepage lays out all your jobs, giving you options to see jobs that are possible, won, completed or lost, by a filter. This means you can choose how you want to view your jobs, according to how you work best, to effectively and efficiently review and get on with your work.

These easy and efficient ways to view your work also extend into jobs with the job overview. From here you can get a quick update of what exactly is going on within the job, from seeing what paperwork you have, to any tasks that you have to do. You can choose whether to have a general overview or specific overviews of paperwork or tasks, giving you flexibility to how you want to work.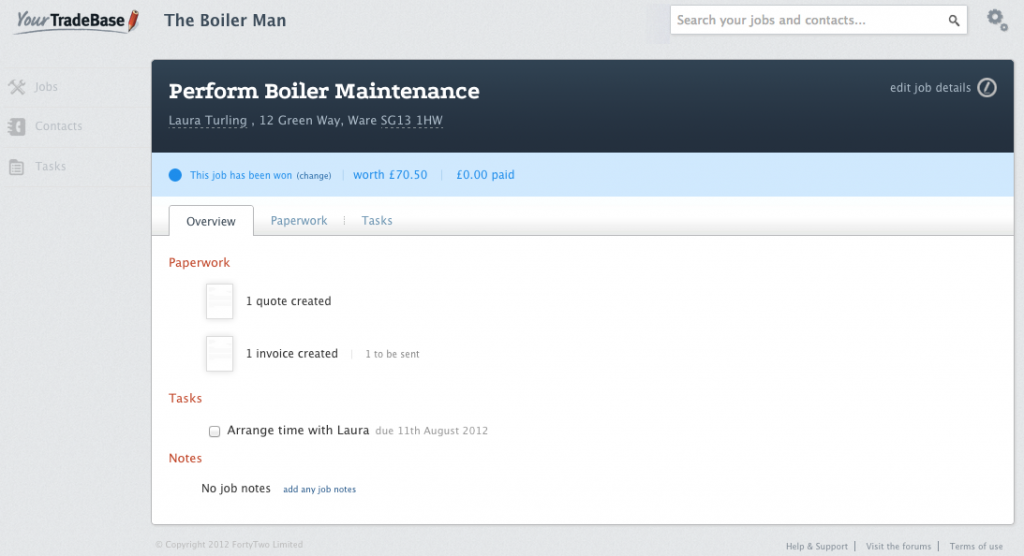 The new YourTradeBase is designed so you can quickly and efficiently work the way you want to, leaving you time to get on with the job at hand.
We're still on the lookout for Beta Tester for the new version of YourTradeBase, so if you want to get involved, all you have to do is send your details to app@yourtradebase.com, and we'll be in touch. As an incentive for you helping us out, we will be giving 6 months FREE membership to all of those who do!
Alternatively you can alway sign up for a 45 day FREE trial!