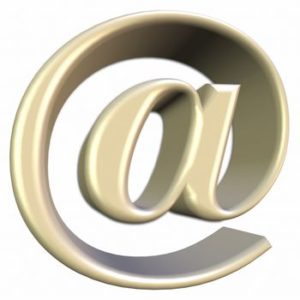 Do you have many customers asking if you can email them their quote after surveying a new job?
Over the years you've probably heard this request more and more often as email has exploded in popularity and become as common as the web itself.
Even if you're not that into email, it doesn't mean your customers aren't too. Perhaps they'd like to receive their latest home improvement quote quickly, or you're working for an insurance company or letting agent that needs to get some costings together as soon as possible – sending an email is certainly a lot quicker then snail mail, and you've got the added bonus of making your business that bit greener, too.
We've heard this request for emails more and more often, too – from our users who would like to send their customers their paperwork this way. We've listened, and we're in the process of implementing emails into YourTradeBase. We hope to announce our new built-in email feature very soon, but in the meantime, I thought I'd put up a quick guide to sending estimates and invoices to your customer by email.
Sending emails to your customer is easy:
Once you've created your estimate, quote, or invoice in YourTradeBase, click the 'print to PDF' button.
This creates a PDF document (a PDF is a very common type of file that can be opened on any computer), ready for you to print out. Rather than print out the PDF that YourTradeBase has created for you, you want to save it to your computer. Do this by clicking 'File', and 'Save As'.
Select somewhere to save it on your computer. Saving it to your desktop will do just fine. You now have a copy of the paperwork you've just created on your computer, ready to email.
Open up your email program, create a new message to your customer, and click the 'Attach' button (normally at the top of your email window). the email program will ask you which file you'd like to attach, so select the PDF you just saved to your computer.
That's it, job done! Type a friendly note to your customer and click 'Send' (If you want to make sure everything is working fine, why not send the email to yourself first, so you can see what your customer will be receiving?).
Bonus: Add that extra touch to your emails
Make sure you include the ways in which your customer can contact you if they have any questions about the work your quoting for – what's your telephone and mobile numbers, your return email address or web site address. Can they call you anytime?
You can also leave the door open for a follow-up contact with your customer – perhaps tell them you'll be giving them a call on a certain day to see if they need anything else from you, or if they have any questions you can answer. Not only will this demonstrate your professionalism, but also gives you an easy way of continuing the conversation with your customer about the work they want/need doing.
Lastly, explain the next steps – will you be sending a copy of the works estimate in the post for their reference? Do they need to schedule a start date for the work if they want to go ahead? Let your customers know what happens next, and the whole process may seem less daunting to them.