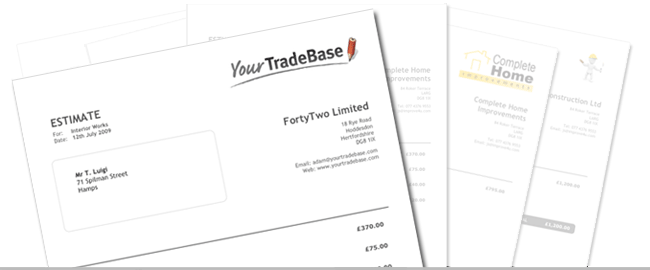 We've always known that the paperwork you produce using YourTradeBase is important to you, and it's important to us that we help show your trade business in the best possible light. So we hope you'll be pleased with our latest new & improved feature: New layouts for your estimates and invoices.
We think the new layout and cleaner design are a huge improvement, and should help you promote your business more easily. The revised layouts gives you:
A Clean new look – presenting a professional image for your business,
Detailed descriptions now displayed on follow-on pages – allowing you to submit more detailed estimates & quotes to your customers,
Your customers address now fits into a standard DL envelope window – letting you forget printing labels and concentrate on winning work,

Add terms to your estimates & quotations – adding validity periods or customer notes to each of your estimates or quotes.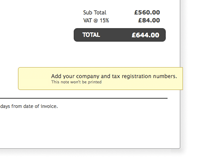 As well as cleaning up the layout of estimates and invoices, we've also added some extra help aimed at getting your paperwork customised for your business as quickly as possible. When you create an estimate, quote or invoice, you'll notice small notes reminding you what extra information you might want to include for your customer.
You can add your own business logo, add various ways for your customer to contact you, and add company or VAT registration numbers.
Available right now
You'll find all these changes are available right now. Just log into your account and take a look at your new-look paperwork – that's right, nothing to download, nothing to install – any improvements we make to YourTradeBase are available for you to use immediately. After all, if you're saving time on paperwork and running your business, you don't want to be spending it installing software.
There's lots more to come from YourTradeBase, and we're excited with what we have in store over the next few weeks.
Is YourTradeBase missing something?
If there is a particular feature you'd like to see or think would improve YourTradeBase, please leave a comment here or in our forum.