Following on from the recent little big improvements we've made in YourTradeBase, we have another little improvement that could be a big help with staying on top of your paperwork: Control your estimate and invoice reminders.
We initially introduced paperwork reminders into YourTradeBase as an easy way of letting you know what actions were outstanding for your paperwork (perhaps an estimate needed to be sent, or a quotation was awaiting a response from your customer), so we'd send you a friendly, (hopefully) helpful email message letting you know what was what. They worked well, but you only got an email after 7 days – it was always our intention to give you more control over if and when you received reminders.
Reminders, Your Way
We're happy to now give you that control; you can set whether or not you want to get email reminders, and how long we should wait before reminding you. the new Emails & Reminders page in your Settings tab let's you decide how many days to wait before you receive an email for:
Quotes or Estimates that need to be sent;
Quotes or Estimates that are awaiting a response;
Invoices that have been in draft and may need to be sent;
Invoices that have not been paid.
You can also choose not to receive reminders for any of the above, and YourTradeBase will leave you alone!
Ready To Go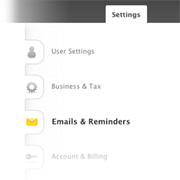 As always, these changes are available for you to use right away, so there's nothing you need to do to start using them. We've turned all reminders ON with a default to send after 7 days, so if this doesn't suit you, just visit the Emails & Reminders page in your Settings tab, and change them to something that does.
Are We Missing a Trick?
We want YourTradeBase to be a real help for you when managing your job workload and creating your quotations, estimates, and invoices – if it's going to be a real help to you, it needs to work how you need it to. We're always pleased to hear feedback or suggestions, however big or little they are.