We've all had our hard hats on and paint brushes in hand lately, working away on building a new tab and giving YourTradeBase a fresh lick of paint.
All the hard work has finally paid off, and we're pleased to announce our latest new feature – the Customers tab.

Manage Your Customers
Now you can easily search for your customers, look up their contact details, or see all the work you've carried out for a certain customer, all from the new customers tab in YourTradeBase.
The customers tab make it easy to browse and search for the customers you've entered when creating your estimates, quotes or invoices. You can also view your customers contact information in a snap by hovering your mouse over the contact details icon. It's like an on-line address book just for your customers.
Clicking on one of your customers takes you to their profile page, where you can:
View your customers address on Google Maps. If you've entered a postcode for your customer, use the power of Google maps to find their exact location quickly.
Get directions from your address to your customers address. Entered your postcode into YourTradeBase? Great. Now you can grab directions to take you to your customers place at the click of a button.
Add notes for your customers. Need to remember what boiler your customer has, or how often they offer you tea? Customer notes makes it easy to add as much information about a customer as you like. Do a customer search, and the notes field is included, so finding all your customers who sent you a card at Easter is a breeze.
Set customer reminders. Keep forgetting appointments or service calls? Customer reminders makes it easy to enter information you'd like us to, er, remind you about. You can even select recurring reminders, so forgetting annual service calls is no longer an issue.
See how much work you've done for a customer at a glance. The customer activity dashboard shows how much work you've quoted for, how much money you're overdue, and how much you've been paid, for each customer.
View all your customer quotes and invoices in one place. We've also made finding paperwork you've created for a customer very easy. It's all there in each customers profile.
Create Estimates, Jobs, and Invoices. Creating new pieces of paperwork for your customers is quicker too – if you're looking at your customers profile, just select what you need to create. The customer is filled out for you.
…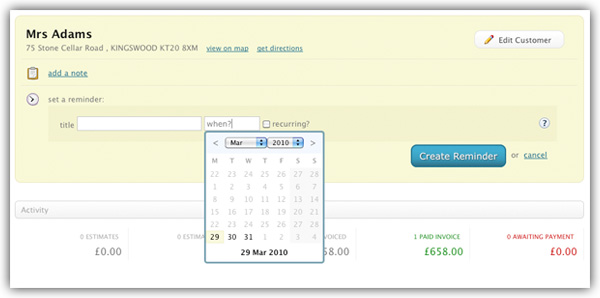 …
See for Yourself…
These changes are all up-and-running in YourTradeBase right now. Take a look and see how the customer tab might help you be more organised when dealing with customers. If you've already got an account, you can log in anytime you're online by visiting http://go.yourtradebase.com. If you haven't yet got a trial account, it takes just a couple of minutes to create one from our registration screen (and you get 30-days for free at the moment, too).
We've got a lot more features in the pipeline for the customers section, but we're happy with what we've built for you so far. As always, we'd love to hear your feedback about these new features, especially if you feel we've missed something that would make your work that little bit easier.
Spring Cleaning
Although a little late for British springtime, we wanted to give YourTradeBase a bit of a tidy-up, so we decided to freshen up the main screens to make things clearer and simpler to use. You'll now find that your dashboard, and estimate and invoice overview screens are a lot easier to browse, and a lot easier to update.
If there is a particular feature you'd like to see or think would improve YourTradeBase, please leave a comment here or in our forum.