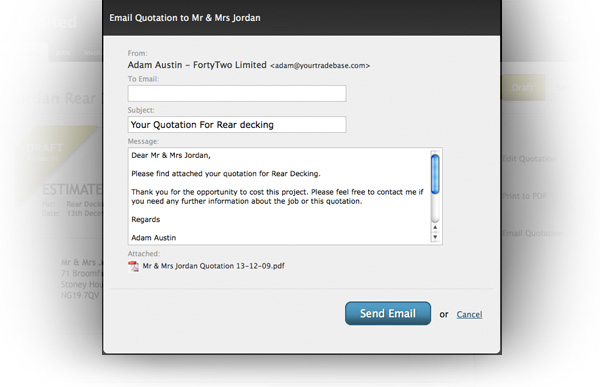 We hope our latest new & improved feature for YourTradeBase really helps set you apart from your competitors, and helps you in winning more work: You can now email quotes, estimates, and invoices directly to your customers from within your YourTradeBase account.
We've had a lot of requests for this new feature, so we're really pleased to be announcing it. We've focused on making sending emails to your customers as easy as possible – In just a few clicks you'll be sending the paperwork you create from YourTradeBase.
How does it Work?
Emails are sent to your customers from your own email address, not from some-email-address@YourTradeBase.com. The email address you use to log into YourTradeBase is used as the 'from' address in your emails. Customers then reply to your email address directly.
A PDF of your estimate, quotation, or invoice is automatically attached to the email. Create your paperwork in YourTradeBase as normal, and when you're ready to send it, your paperwork is already attached to the email, waiting to be sent.
Your customer's email address is automatically added. If you've entered a customer email address when creating your paperwork, this address is automatically filled in on the email form. If you haven't entered an email address, it will save the email address you enter for that customer, ready for the next time you need to email them.
Customise the subject and message of your email. We've set up some default subject and message text, but you can change this to whatever you like when you're ready to send.
Paperwork is automatically marked as sent. Once you've clicked 'send', the email is whisked away to your customer and the estimate, quote or invoice is updated and marked as sent for you.
A copy of the email is sent to you. You want to know that the email has been sent, right? We send you a bcc (blind carbon copy) of the email so you can see how your customer will receive your paperwork.
Why Email My Paperwork To Customers?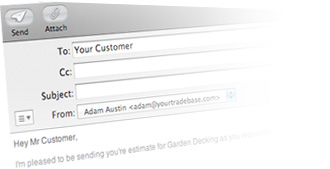 15 years ago, if you were a tradesmen and your customer asked you to email them with a quote, I bet most would have been met with a blank stare. "Email, uh?" Well, today your customers are far more likely to request that quotes or estimates are sent to them via email. Now, it's quick and easy to say 'Email, yep!".
Even if they don't request it, being able to offer to send quotations or estimates to your customer using email will add to the professional image you work hard to build. Your customers may take comfort from the fact they can respond to your costings (with questions, comments, or inquiries) via email and be happier with your speedy reply. You probably don't get too many customers posting you letters in response to your posted estimates, and those that can't be bothered to pick up the phone may also be happier to engage with you over email. Engaging customers can be one way to help build a good relationship with them, so if your customers prefer getting their questions answered via email, that's what you need to offer.
Email is obviously faster then the unpredictable 'snail' mail, so your estimate or quote might just reach your cusotmer that much quicker than the competitors – what a great start to winning that project!
A large percentage of your potential customers are probably on email anyway – whether at home or at work – probably a lot more than write letters. Why not offer them both an emailed quote and a written quote in the post? An email now to get them started and let them know that a copy is also in the post to them.
How Do I Start Sending Emails?
We've made sending emails of your quotes and invoices as easy as possible:
1. Verify your email address
Before you start sending emails from within YourTradeBase, we need to make sure you have access to the email account you will be sending from.
To verify your email address, you can either:
Follow the link we send you when you create your YourTradeBase account, or
Follow the instructions that display when you send your first email. We'll send you an email to the email address you use to log in, with a link to click. Click it, and you're verified and ready to go.
2. Create your paperwork and click 'Email Quote/Estimate/Invoice'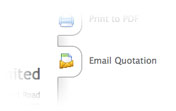 Once you create the paperwork you want to email, click the 'Email' button on the right-hand side. This will open a box for you to enter your customers email address, a subject for your email, and the message to send.
The paperwork you're sending will be automatically attached to the email.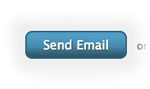 Once you've completed your message, Click 'Send', wait a few seconds, and we'll confirm it's been sent. A copy will be sent to your email as well. Job Done.
More New & Improved To Come
We're always working on improving YourTradeBase for you, and we share these improvements with you via this blog, our newsletter, and in our forums. If you'd like to stay in the loop, you can subscribe to our RSS feed, or sign-up for email messages of these posts, or Subscribe to our email newsletter (just enter your email at the bottom of this page).

If there is a particular feature you'd like to see or think would improve YourTradeBase, please leave a comment here or in our forum.