A busy couple of weeks at YourTradeBase HQ means we have some new & improved features to share. We're calling them little big improvements:
Download Your Data
Save Your Terms
Number Your Invoices
I'm sure you're eager to find out more, so let's jump right in…
Download your Customers, Estimates, Jobs, & Invoices to your computer
We've added data download to all YourTradeBase accounts (after all, it's your data). This allows you to export all the info you enter into YourTradeBase, and save it to your computer to use how you like. You can choose to download all the data you've entered for your customers, estimates, jobs, and invoices into a .csv file.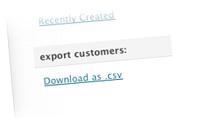 CSV (comma separated value) files are good friends with spreadsheet software, so you can use Microsoft Excel, OpenOffice, Microsoft Works or any spreadsheet program to open up and access your data. (If you don't have spreadsheet software on your desktop computer, did you know Google offers a free online spreadsheet program – you can check it out at Google Docs…)
You can download your data anytime you like – Just visit the section you'd like to export, and click 'download as .csv' – you will be prompted to open the file or save it to your computer. Save it, and all your data can be viewed at any time as a spreadsheet. (Ok, spreadsheets aren't very glamorous, but they'll do the job!)
Save your Quotation and Invoice terms
We're striving to make it as easy as possible to quickly create estimates, quotes, or invoices for your customers. One of the things we weren't happy about was making you enter your terms each time you created a piece of paperwork. It's important to have terms between yourself and your customers, so we wanted to put things right – you can now save your default terms for estimates or quotes, and invoices.
It's a little thing, but we're sure it'll save you some hassle each time you create an estimate, quote, or invoice using YourTradeBase.
To start using it, enter your terms the next time you create some paperwork, and check the 'Save these as your default terms' box. The next quote or invoice you create will then use these default terms, which you can choose to keepas they are or modify them to suit the work.

Choose which number your Invoices should start at, and enter a reference prefix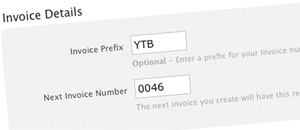 Lastly, we've improved invoice reference numbers – you can now choose which number you'd like your invoices to start at, and whether you would like to add a prefix to them.
Just go to the Business & Tax page in your Settings Tab, and you'll find an invoice details section. Enter the prefix you want to add to your invoices, and enter your next invoice number (invoice reference numbers start at 0001 as default). Future invoices you create will use these settings for the reference number.
That's all for now…
We hope you find these small additions useful. We've got more in the pipeline, and we'll share them with you as soon as they're ready to use.

YourTradeBase offers easy-to-use online software for tradesman who want an easy way to sort their paperwork.