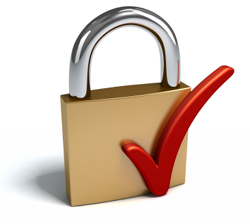 Things may have seemed quiet around here these last few weeks, but we're ready to start showing you the hard work that's been happening behind the scenes.
Although we love making improvements that makes paperwork easier for our users, we also know we need to make sure that YourTradeBase is a secure, fast, and stable web application.
So we're really happy to announce that we've upgraded YourTradeBase with greater security and a faster experience.
Industry-Standard Security
We've added industry-standard SSL security to the Login, Register & Billing areas. This means improved peace-of-mind when you enter any business details or access your account in YourTradeBase.
SSL works by encrypting the information you send us from your web browser, preventing this data from being intercepted or stolen. We've gone with 128-bit encryption, which is the same as banks and e-commerce shops.  If you'd like to learn more about SSL and how it works, Yahoo! Help has a simple guide to 'What is SSL?'.
If you visit the YourTradeBase Login screen, you will notice the address bar now displays https:// (instead of the unsecured http://) and a padlock icon is featured at the top-left or top-right of your browser window.
If you don't see these displayed, your browser may not be setup to offer you this extra security – Google Help has an easy-to-follow guide on How to enable SSL.
Even Faster Paperwork
We've also increased the performance of our servers to make sure YourTradeBase works as fast as software you install on your computer. So you can now create and manage your paperwork even quicker! We won't bore you with the details, but you should notice a more responsive and stable YourTradeBase, meaning less downtime and less inconvenience to you.
More New & Improved Still To Come…
This is just the start of the upgrades and new features we've been working on, and we will be sharing some of these exciting improvements with you over the coming weeks. If you'd like to stay in the loop, you can subscribe to our RSS feed, or sign-up for email messages of these posts.
If there is a particular feature you'd like to see or think would improve YourTradeBase, please leave a comment here or in our forum.
YourTradeBase offers easy-to-use tradesmen software for tradespeople who want an easy way to sort their paperwork.