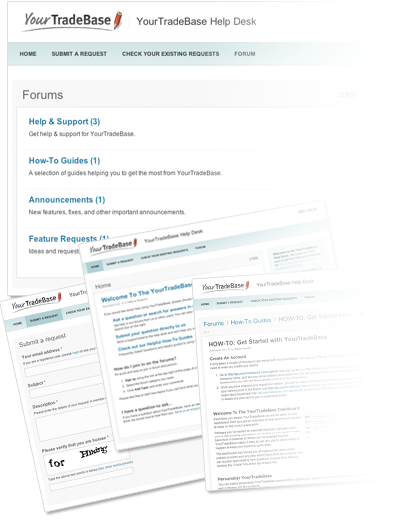 We're pleased to introduce an important addition to the YourTradeBase team: our new Help Desk – designed to help us help you get the most out of YourTradeBase.
Offering high quality support and quick responses to your questions is a high priority for us, and the help desk makes it much easier for us to offer both. Our new Help Desk allows us to better manage your help and support requests, and makes it much easier for you to find the answer to any questions you may have (or ask us directly in a snap). It also means we can keep track of frequent feature requests, provide resources for getting the most out of YourTradeBase, and encourage users to get in touch with us through our forums.
Now, when you need help with any aspect of YourTradeBase you have a variety of ways to get a quick answer:
We have also integrated the Help Desk within YourTradeBase – easily request help, visit the forums, or leave us feedback from the footer of any page.

The forums are divided into 4 sections, but we have plans to gradually increase this to provide even greater resources for your trades business:
Help & Support – the place to find answers, ask questions, or discuss tips and tricks.
How-To Guides – a selection of guides for getting more from YourTradeBase. (Check out our first guide – Get Started with YourTradeBase – there's more to come!)

Announcements – our place to announce new features, fixes, and any other important info.
Feature Requests – your place to tell us what you'd like to see from YourTradeBase.
Dean's posted a helpful guide to using the forums – which you can check out here.
You can find the new help desk by visiting Support at the top of this page, by visiting helpdesk.yourtradebase.com, or from the bottom of any page within YourTradeBase. It's a little bare at the moment, but rest assured, you wont be talking to yourself if you do want to say anything there – keeping an eye on the forums, answering questions, and dealing with any support requests is going to be a firm part of our daily routine.
We look forward to hearing from, and helping, you.