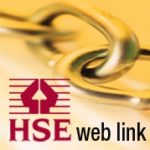 The HSE started in 1974, a year when 651 people were killed in work related accidents.  Now as they approach their 35th year their contributions to safety show a clear improvement.  A HSE report states that the number of deaths, to the year ending March 2009, now shows 180 people were killed in work related accidents.  Thats is the lowest recorded since the HSE was formed and the lowest in the EU.
Judith Hackitt (Chair of HSE) Say's:
"Since the introduction of the Act, safety performance has improved by more than 70 per cent. We now have one of the best combined health and safety records of any country in the world."While we can be rightly proud of this reduction, the sobering statistic is that 180 people who left for work last year did not return home to their families, and several thousand more suffered early deaths caused by disease and illness which was linked to their work.

"Our aim has always been and will always be to keep reducing the amount of needless, work related deaths year on year."
Good on them I say!
Enjoying this stuff? Find it useful?
Get it straight to your inbox — easy.
We'll send you a new article as soon as it's published.
Just enter your email below.