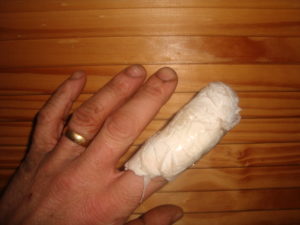 I had a nasty slip today with a brand new Jack Saw and made a bit of a mess of my left index finger.  With the blood running down and dripping from my hand I searched for my first aid kit only to find it full of empty boxes and wrappers and some plaster tape that had seen far better days.
I had to resort to making something up to act as a bandage and the only available items I could find was some old tissue and some selotape which I'm sure most of you have had to do at some point.  After a couple of minutes this home made devise needed to be replaced as the blood soaked through and the tissue got soggy.  3-4 attempts to curb the bleeding I decided to make my way on the 1hr drive home so I could use something more suitable.  When I got home the missus had a look, and after telling me about how much of a girl I am, cleaned and bandaged it up to look something less resembling that of character from Tom & Jerry.
I have just been on the net and found a number of suppliers of first aid kits and all seem to have attractive prices.  If your kit is running low? Take a look at these and get a restock before your caught out like me!
Enjoying this stuff? Find it useful?
Get it straight to your inbox — easy.
We'll send you a new article as soon as it's published.
Just enter your email below.