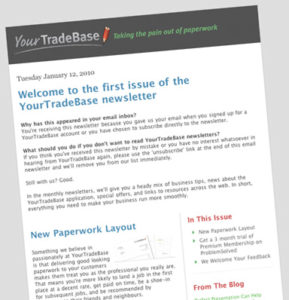 The 2nd issue of the YourTradebase monthly newsletter is to be distributed on Friday the 12th Feb.
Visit the site and enter your email address at the bottom of the page to subscribe and get your dose of YourTradeBase and trade related news.
Seems too much like hard work?
If you're feeling lazy and can't be bothered to visit the YTB site to subscribe just stick your email address in the comments section of this post and we'll subscribe you!
Enjoying this stuff? Find it useful?
Get it straight to your inbox — easy.
We'll send you a new article as soon as it's published.
Just enter your email below.