What is Google Local?
You may or may not have heard of Google Local, but you've probably heard of, and used, Google Maps (You've probably zoomed into a neighbours garden, or wandered around your town in Street View). Google Local hasn't been heavily promoted by Google, but it is changing the way people find local services on the web.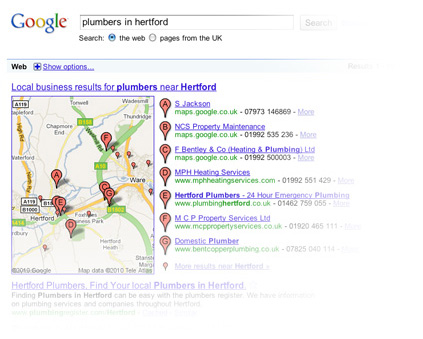 Google Local uses the excellent Google Maps to display local businesses or services when Google users search for services in a specific area.
That's cool, and it makes things very easy for people who are looking for certain services in an area – results are displayed on a map with pins marking their location, and some services then have their contact numbers, address, service description, and photos of their work displayed next to them.
Perhaps even better – for a tradesman looking to promote themselves on-line at no cost – is that these results are displayed at the very top of Google search result pages.
Big companies pay big money to be listed near the top of Google, and Google Local can help you get there for free.
Not only can your business be displayed at the top of Google, but you're also being displayed (or even recommended) to people who are searching for your services, in your area.
Google themselves describe Google Local as:
Help customers find you on Google Maps

Millions of people search Google Maps every day. A free listing on Google Maps makes it easy for them to find you.

Use the Local Business Centre to create your free listing. When potential customers search Maps for local information, they will find your business: your address, hours of operation, even photos of your shop front or products. It's easy, free and you don't need a website of your own.
How Can Google Maps Help A Tradesman Win More Work?
A lot of businesses find their way onto Google Local search results just by being found on the web by Google. This is great, but your trade business or service may be missing opportunities by leaving your business description and promotion solely to Google.
Are you listed in Google Local? Do a quick search for your trade in your area- e.g. Plumbers in Hertford – and take a look at the results. What are your potential customers seeing if they are looking for a service you offer in your area? If you're not listed, I would say you're missing out.
While you have the search open, take a look at which of your competitors are listed – If they are listed on here, they're probably picking up work that you're missing out on.
Below I've outlined 3 (easy) steps you can take to win more work as tradesman by using Google Local.
3 Steps to Winning More Work
1. Register for Google Local
Visit www.google.co.uk/lbc – on the right hand side, you'll find a sign up/login box.
If you have an account with Google, sign in using your email address and password, If you don't already have an account, just click the sign-up box and follow the instructions – it's free and takes just a few minutes.
Once you are logged in to your Google account, you'll see an introductory video to the Google Local Business Centre, and a Add New Business button. Click this button to start entering your business or service details.
2. Tell Google all about your Business

The next step is to start entering your business or service details.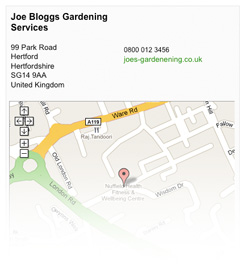 Google will ask you to input your company name (this might just be your name), your address, and your contact details. As you start entering your address details Google will start showing you what your business listing will look like on the right. Enter as many ways of your cutomers reaching you as you can, and enter a description for your business.
You should also try and enter as much description as possible – this is how you explain what you do for your customers, so try and use all 200 available characters, but also try and inject some personality: make it friendly and welcoming if possible. The last step on this page is to select up to 5 categories for your business or service – try and select 5 categories that are relevant to what you offer your customers.
Clicking next takes you to the business detail page. Here you can enter as much information about your business as you like – you can enter opening hours, accepted payment methods, and additional services.
You can also add up to 10 images and up to 5 videos. I'd strongly recommend uploading as many examples of your work as you have to show your potential customers the standard of work you offer.
Don't worry if you can't complete all the details right now – you can always come back and 'edit' your business profile later. When you're happy, click Submit.
3. Verify your Business, and start showing up in Google Local searches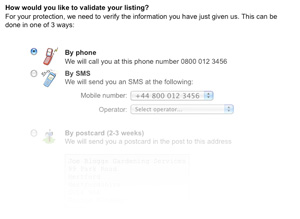 The last step is to prove to Google that you are who you say you are!
Google requests you verify that you can actually be contacted by the methods you have entered in your listing. This way, Google can ensure that the details it serves up to it's visitors is real and accurate. Your listing won't be displayed until you've confirmed you can be reached by phone or post.
Google gives you three options to verify your business details:
By phone – Google rings your main business phone number with an automated message giving you a unique PIN number. This happens almost immediately.
By SMS text message – Select one of your listed mobile numbers, select your phone provider, and Google sends you a text message with a unique PIN number. this happens almost immediately.
By Post – Google sends you a unique PIN number on a postcard, to your listed business address. This takes around 10 working days.
Select your preferred message and enter you PIN number at www.google.co.uk/lbc. That's it. Once verified, your listing should start showing up in searches within about 24 hours.
What you waiting for?
If you haven't listed your business on Google Local – get to it! You could be winning more work in no time. Good luck with your Google Local listing.
If you have any questions or suggestions about using Google Local, please feel free to leave a comment below. In a future post, I'll show you some very easy ways to promote your business further by increasing your ranking position in Google Local – all at no cost.
Remember you can keep up-to-date with our blog posts and email newsletter – for more Tradesman news, help and resources – by following our RSS feed, or subscribing to our newsletter at the very bottom of this page.