When it comes to winning work, you've got to win trust. New customers need to feel comfortable giving you their long-planned projects and hard-earned cash, not to mention their front door keys. So today, we're looking at one simple way to win that trust… with a few well-placed logos.
If you've sweated over trade accreditations or paid to be part of industry associations, don't keep it to yourself. Flash those logos on your paperwork and make a great impression, fast.
Put yourself in your customers' shoes. They need a job doing, they can't do it themselves, they're looking for an expert – and they invite you to quote. You pop in, you take a look and you fire off a price. But how do they know you're reliable, responsible and won't rip them off, when they've only met you for five minutes? How about helping them out…
The power of trade accreditations
If you've worked for an industry accreditation like TrustMark, Gas Safe, NICEIC or the dozens of others out there, make sure people know about it. You've invested time and money to develop your skills and your business. That shows you're serious about what you do, willing to go the extra mile, and are a professional, conscientious tradesperson. Exactly what every customer wants.
It's work-winning gold. But only if customers know about it. If they don't, they'll struggle to pick you out from the competition – who might not be half as good, or trustworthy. Which is a bit of a waste of all that effort, and a bit of a shame for the customer.
Make your memberships count
The same goes for memberships of trade associations. Being a paid-up member of a respected organisation like NAPIT, the BIKBBI or loads of other trade-focused associations helps people feel you're an expert, committed to your trade and ready to do high-quality work. These are things they're actively looking for – but if you don't tell them, they'll never know.
Spreading the word
Whatever trade accreditation or membership you've got, you'll be allowed to use the organisation's logo to get the word out. So, get on their website, download those logos and flash them everywhere you can. After all, if you don't, someone else will.
You can slap them on your van, wear them on your T-shirts, use them in your adverts and splash them on your signage. But for a super-quick win, how about adding them to your estimates, quotes and invoices? It'll only take a few minutes, but it'll make all the difference to the way people see you – and the way they weigh up your quotes against the competition.
Paperwork that says you're a pro
If you're using Word to write your invoices, you can drop the logos onto each piece of paperwork and adjust them to fit. Alternatively, try making a template you're really happy with – complete with trade logos – and typing into it every time you write an estimate, quote or invoice.
If you're using YourTradebase, it's even easier. You can upload up to five logos from accrediting bodies or trade associations, save them in your account, and use them whenever you want, right across your paperwork. We'll automatically size them so they look super professional and you can add them to templates so they're ready to roll whenever you are. Handy stuff.
Here's what they look like on a quote…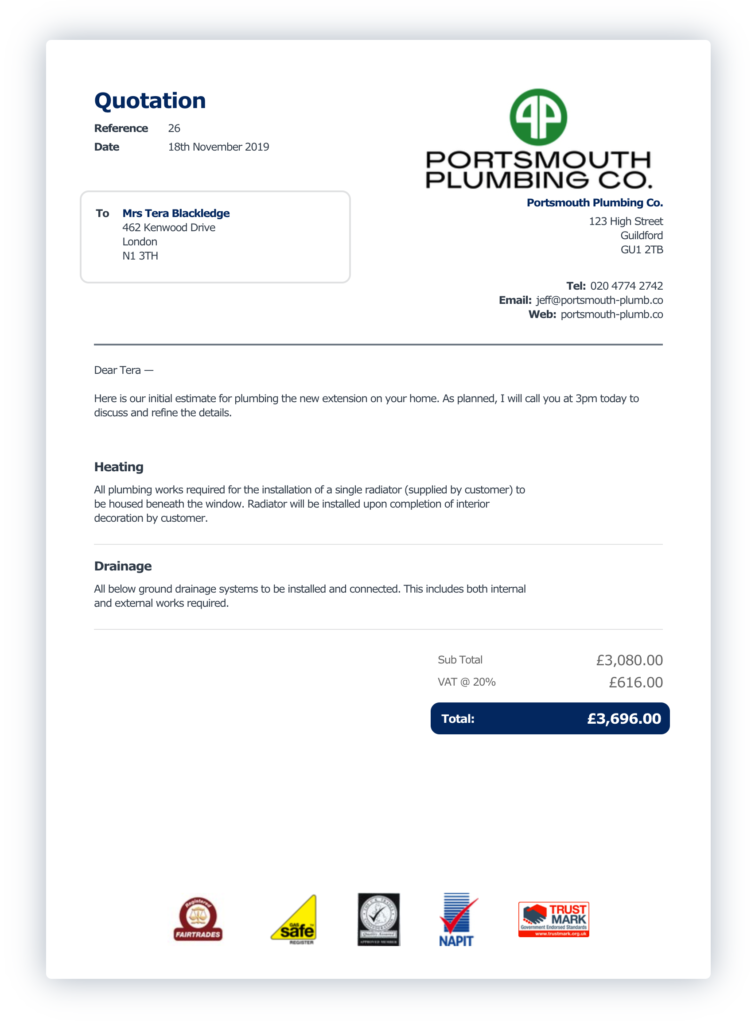 Here's what they look like on an invoice…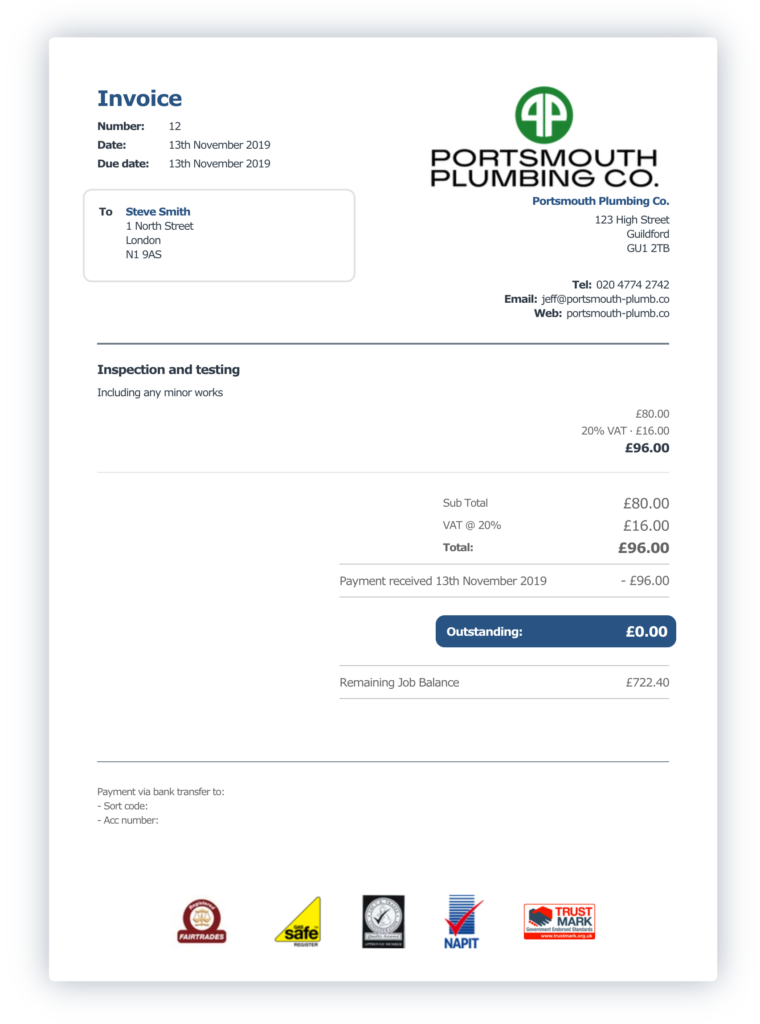 What else can I do to build trust?
Pulling trade logos into your paperwork is a five-minute job you can kick off today. But it's not the only thing you can do to build customer confidence.
Get into the habit of asking happy customers for feedback and you can quickly build up a bank of great comments about your work. Send a few over with your quote and you're instantly looking like a strong choice. Even better, add photos of similar projects you've worked on. You'll look professional and organised and you'll be giving people real reasons to believe in you.
Finally – don't forget that clear, friendly, professional communication goes a really long way when you're building trust. Even better, it's free. So, be up front about what you can do (and when) and stick to it. Keep people in the loop so they know what to expect. And make sure every piece of paperwork looks the business. If you need us, we're always here to help.
Thinking about getting accredited?
If you haven't got any accreditations or memberships, they're definitely worth thinking about. Yes, there's usually a cost, but it's an investment that'll pay for itself pretty fast. Try googling trusted trade bodies in your line of work to see what's out there and what's involved.