Today's update's all about tailoring invoice terms to individual customers – saving you time, reducing faff and keeping your regular customers happy. Let's take a look…
When you write invoices in YourTradebase, you've always been able to choose how long before they're due. But we know lots of you like to be able to give different customers different terms. Different strokes for different folks, right? Fair enough.
So, today's update makes that easy. Now you can pick payment terms for each individual customer, whether they're seven days, ten days, 30 days or anything else. You can also choose whether to deduct CIS for that customer too.
Once you're done, just save those preferences and the next time you send that customer an invoice, we'll drop them in for you. So, if you've chosen 30 days, we'll give the invoice a due date that's 30 days away. Easy.
Here's how to do it…
Click on the customer's profile and the edit (from the actions '…' menu), look for the 'Invoice due in' box and type in the number of days. Right below that you'll see 'Deduct CIS?'. Just tick the box if that's what you want to do, then click 'Save customer' to, well, save the customer. All done.
It's just the same for brand new customers. When you're on the 'Create a customer' screen, you'll get the same options for invoice dates and CIS. Just make your choices and click 'Save'.
Want to see what that looks like? Here's a quick screenshot: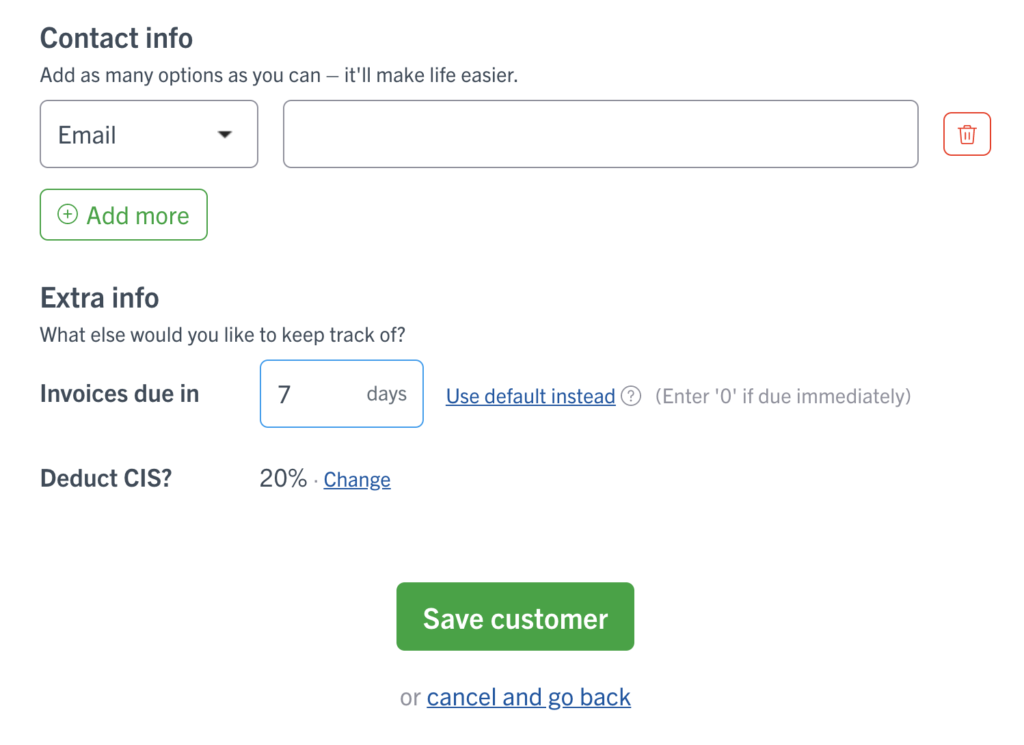 And that's it! You'll be making sure your invoices get paid without hitting any speed bumps, and keeping your customers happy too. Give it a go.