We're kicking things off this year with a nifty new update. It's all about giving you more control over how you view your jobs, tasks, quotes, invoices and customers. Let's take a look…
When you've got a whole stack of stuff saved in YourTradebase, you need to find what you're looking for, fast. So, we've been busy updating our main screens to help you filter, sort and see everything, just the way you want to.
Maybe you like your quotes listed in date order, your jobs sorted by start date, or your invoices arranged by reference number. We've all got our own way of doing things, and this update's about giving you the freedom to work the way you want to. Here's how…
Better filter options
Find customers, quotes, jobs, estimates and invoices faster with all filters available with just one click: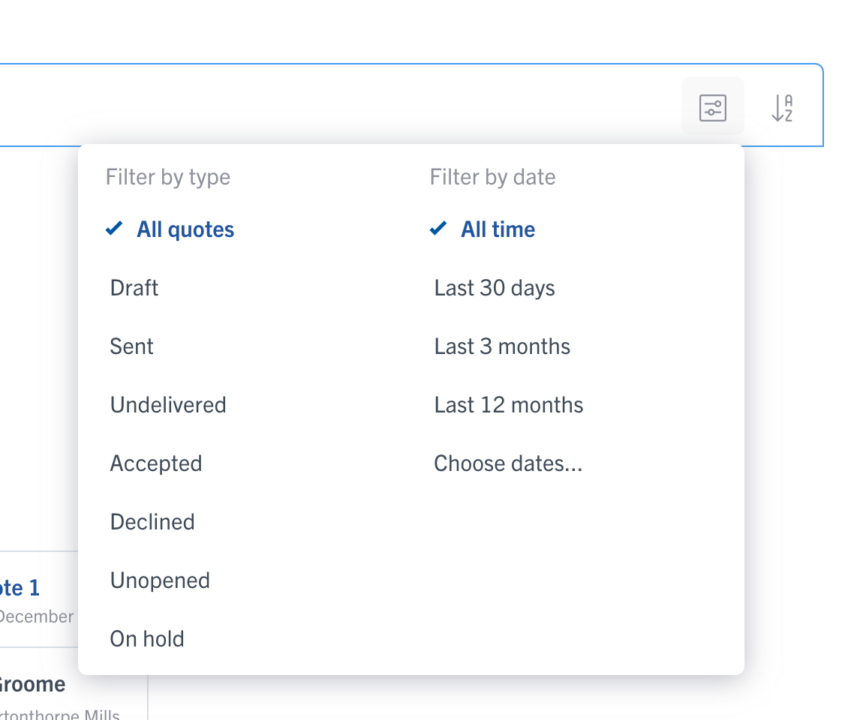 More ways to sort work
Choose the order you'd like to see things in – whether that's by the date you wrote the quote, the date you started the job, the reference number or a whole bunch of other options.
Faster searching and filtering
Get straight to what you need, with speeded up search capabilities and even faster filtering.
Auto-loading, however long your list
See your stuff sooner, with auto-loading that shows your top search results straightaway, and loads more as you scroll.
Your preferences, remembered
Forget constantly re-entering filters and re-sorting lists. Just search, sort and view the way you want to, then we'll remember your preferences for next time.
And that's it. Smarter, quicker ways to get you to the stuff you need, again and again. Get stuck in and give it a go.
Happy sorting!