Costing work accurately often means adding materials and labour rates. Our latest update has just made that a whole lot quicker and easier.
Until now, adding materials or labour rates to your paperwork meant knowing what you were looking for. You start typing a material and then select the one you need.
But what if you're not sure the exact material name, or want to compare a couple of different material options?
From today, you can now add materials directly from your material list. And the same for labour rates.
Here's how it works
Just select Add from material list…

You'll see a complete list of all your saved materials…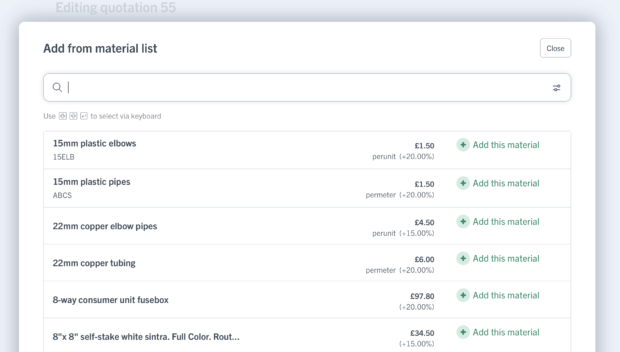 You can search your material list for specific items, and see everything that matches…

Or filter by a category or brand…

When you find the material you need, select Add this material and it'll be added to your material costs, ready to enter a quantity…

We hope this update makes finding and adding materials and labour costs to your paperwork much easier 👍
Happy costing!