What's changing?
By 14th April 2017 we're moving all leads to 'possible' jobs.
All your data will remain intact, but you'll create and manage your leads from the 'jobs' section.
What are possible jobs?
Possible jobs give you everything that a lead currently allows you to do (and more!).
You can create a possible job by adding a new job, and selecting 'Possible job' when you're asked 'what's the status of this job?'.
If you're starting a new quote, we'll create a job at the same time so you can track the progress of the job and work towards getting it won 😀
What's happening to leads?
Leads are being replaced by possible jobs.
We'll be automatically moving all your leads data into possible jobs and will send you a note explaining when this will happen.
Here's where you'll find your leads once we've moved them:
Open leads – will be moved to possible jobs
Won leads – will be moved to won jobs (if they haven't already been converted by you)
Lost leads – will become lost jobs
You can start creating possible jobs today, and we'll be closing off leads fully by the 14th April 2017.
How do I create a possible job?
Create your possible jobs by starting a new job, and selecting 'Possible job' when you're asked 'What's the status of this job?'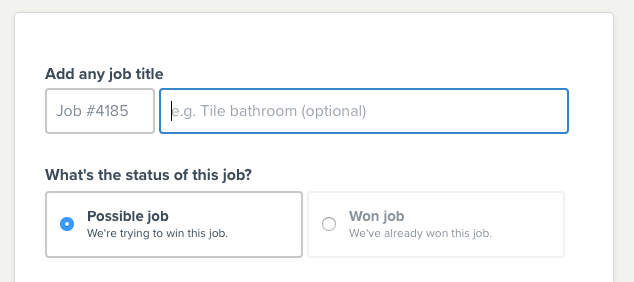 Why are you changing this?
One of our main goals is to help you progress jobs towards completion. 
Today, that progress is difficult in YourTradebase; you create a lead, or create a quote, then convert that into a job if it's won and manage that towards completion.
We think that's too difficult – we can do better. So, we've created possible jobs – a clear path for progressing jobs from enquiry to completion.
Possible job > Won job > Completed job
This means all information related to a lead, quote or job is all in one place: the job you're trying to win.
Got any questions?
We're happy to answer any questions you have about possible jobs, leads, or anything else about this change. Just get in touch with us at helpdesk@yourtradebase.com, or start a chat with us within YourTradebase.