Pricing electrical work when you'd rather be on the job (or the sofa) isn't much fun. If you're like most electricians we know, you probably hate being pulled away from hands-on work, or spending your evenings up to your eyes in quotes and estimates. And if all that paperwork doesn't bring the work in, it's easy to feel you've wasted your time. We get it. We've been there.
How to write electrical quotes, fast
The good news is, there are a few quick, easy ways to make your electrical quotes and estimates stand out – maximising your chances and making sure your time's well spent. In today's blog, we're going to walk you through them step by step, looking at how to price and estimate electrical jobs faster, and better, so you can win more work. Ready?
First things first… why are quotes and estimates so important?
Pricing electrical work properly gives customers peace of mind and confidence about their project. Quotes are a really important way for them to compare tradespeople, see how you'll handle the job and make a decision about who they'd like to use.
When customers ask for a quote or estimate, they're not just trying to find the best price, they're trying to make sure they find a knowledgeable, trustworthy electrician to work with. In fact, both Citizens Advice and The HomeOwners Alliance recommend customers get three written quotes before they give tradespeople the go-ahead.
Quotes and estimates also set expectations about the electrical work you'll be doing, so everyone's clear on what the job involves, and how you're intending to approach it. As well as reassuring the customer, this can help to protect you if disagreements come up later.
What's the difference between a quote and an estimate?
It's really common for people to get quotes and estimates mixed up. Lots of customers – and even tradespeople – aren't clear what the difference is. But there is one. And it's a biggie. We've written loads about it in our quotes vs estimates blog, but here's a quick recap:
Estimates are a rough, informal idea of price, useful for giving your customer a ballpark figure before you've seen the job in person. They can change significantly once you've visited the site and got a concrete idea of what's involved.
Quotes are a formal agreement between you and your customer that you'll do the electrical work described, for the price given – and they can be legally binding.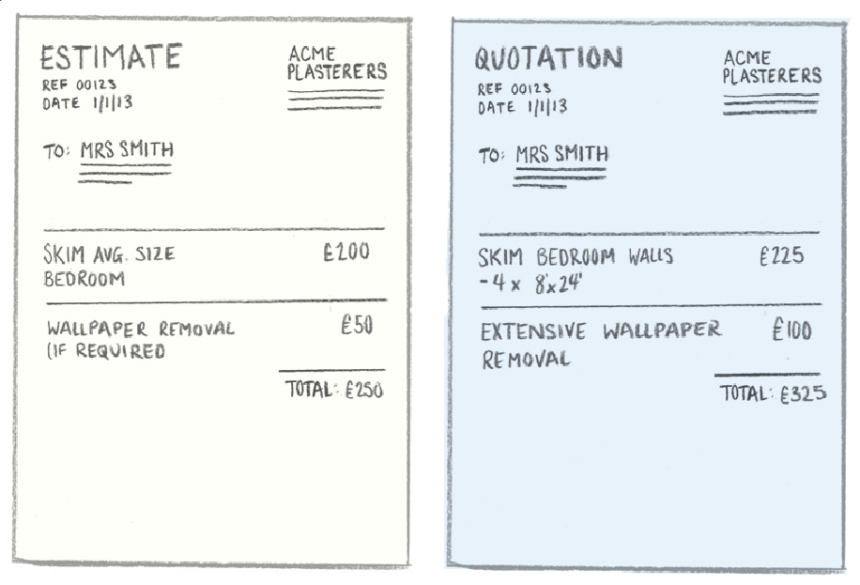 It's really important your customer understands the difference between a quote and an estimate so aren't upset if you need to increase your estimate once you've taken a closer look at the job.
💡 Tip: If you're writing an estimate, give a few examples of things that could increase the cost if they crop up, like the customer's current wiring failing an electrical safety test and needing fixing.
💡 Tip: Even though estimates are only a rough guide, they can still help you make a good first impression, so make them smart, clear and professional.

How soon should I send my estimate or quote?
The sooner the better! If you're writing an estimate, try to send it out the same day. You're only giving a ballpark figure, so if you've done a similar project before, get a head start by looking back at what you charged. Just be clear with them that the price could change when you see the job.
And if you're writing a quote, try not to keep your customer waiting more than 48 hours. They want to make a decision and get on with the job, so make a good impression and help them out.
💡 Don't let quotes and estimates build up. There are great tools out there – like YourTradebase – that can help you knock out great-looking paperwork in minutes. So take five in the van and get it all down while it's fresh in your head. You can even send it there and then. You'll be less likely to forget important details, your customer will appreciate the speedy response and you'll have more time for your friends, family and sofa later!

What's the best way to price up an electrical job?
If you're wondering how to price and estimate electrical jobs better, there's one box you've really got to tick. Whether you're quoting or estimating, the figure you give needs to cover your labour costs + your materials. So how do you work them out?
Labour costs: Make sure you've got an hourly rate for your labour, so you can use it whenever you're pricing electrical work. It needs to cover your business overheads and add up to enough money each year to keep you and your family comfortable. There's loads more on working this out in our blog, how to calculate an electrician's labour rate.
Materials costs: From cables to consumer units, sockets to switches, the price you give your customer needs to cover all the materials you'll use on the job. As well as the actual cost of the materials, make sure you include a markup so you're getting paid for the time it takes you to order, collect and bring those materials to site.
Get into the habit of learning from every job, by keeping track of your quotes and whether each job was actually profitable in the end. That way you'll be able to use your prices again as a starting point for similar jobs, without losing out or starting from scratch.
💡 Tip: YourTradebase automatically saves your tasks and prices in your personal price list, so you can pick and choose whenever you quote – saving a truckload of time.
Build a personal price list & quote faster with YourTradebase.
How should I write my estimate or quote?
There are lots of tools out there for writing up your prices, from a biro and a bit of paper to specially designed, time-saving apps. So what are the pros and cons?
Writing by hand
Pros:
Doesn't take any training
No need for the internet… or electricity
Er… we're struggling for positives with this one!
Cons:
You only get one copy
It might not be easy to read
It doesn't look professional or reassuring
Word or Excel
Pros:
Looks more professional
No problem understanding handwriting
You can save, print and email copies
Cons:
Can be slow and tricky to set up
Hard to make it look really good
You end up with loads of files to keep organised
Installed software
Pros:
Looks professional
Easier to make multiple copies
Easier to save and re-use quotes (sometimes)
Cons:
Can be really expensive
You're chained to your home / office computer
Takes time to install, maintain and update
Can take time to get to grips with
Quoting apps
Pros:
Looks professional
Easy to save and re-use your prices
No need to download anything
Easy to quote on the go
Cons:
Usually a cost of some kind
Can be a learning curve

What should I include in my electrical estimate or quote?
For starters, think about what your customer might expect to see, what's going to help them… and what's going to knock their socks off. If you can cover all of those bases, you'll have a really stand-out quote with a great chance of winning the job. Let's take a closer look…
What do customers expect to see on an electrician's estimate or quote?
Their name and address. Make sure everything's spelled right!
A breakdown of the work involved. Be clear and detailed – it'll make you look professional and help to avoid any confusion or argument later on. It'll also give your customer peace of mind about what they're getting – and for how much.
The total price. Make sure it's clear whether this includes any VAT or taxes.
What is it helpful to include on electrical estimates or quotes?
How long the estimate or quote is valid for. This can protect you from having to stick to your prices if the customer takes a long time to go ahead with the work – or materials costs go up. It also adds some gentle urgency, helping to put a time limit on the customer's decision making.
Whether your customer needs to pay a deposit, and by when. If you're pricing a large electrical job, or buying expensive materials, you might prefer to be paid some of the cost up front. If so, be clear about your payment schedule and what you need to get started.
A reference number. This is just as helpful for you as for your customer, making it easier to find quotes quickly if anyone has any queries. It's also a really simple way to look more organised.
Terms and conditions. You can include these with your quote or estimate, or just add a link to your website where they can find them in full. Either way, you'll be helping to protect both of you by making everything super clear, up front. Again, it'll also make you look like a professional they can trust with their electrical project.
Your VAT number, if you're VAT registered. Again, this gives people the peace of mind that your business has been properly registered and is paying tax.
What's going to make my quote or estimate really stand out?
Smart presentation, including a clear (not fuzzy!) logo.
Your full contact details. Showing you can be easily reached is reassuring for the customer and comes in pretty handy when they want to give you the go ahead.
Logos of any trade associations you're a member of, or any accreditations you've earned. They'll help you look knowledgeable, accountable and trustworthy. And to save you hours of searching, uploading and wrestling with dodgy resolution logos, we've saved a whole bank of them in YourTradebase, including NICEIC, ECA, Napit and Elecsa.
A friendly, reassuring introduction. Add this at the top of your quote (or estimate), in your covering email, or better still, in both. If you're struggling for what to say, YourTradebase has a whole bank of ready-written messages you can use to make a great first impression.
A clear idea of what happens if they want to go ahead. You've spent valuable time getting your quote or estimate ready, so don't leave the customer wondering what's next. Invite them to give you a ring or drop you an email if they'd like to go ahead, or to pay the deposit if you need one.
💡 Tip: It's always good to show you're approachable, so invite customers to ask questions if they want to. In YourTradebase they can ask questions online and even accept quotes instantly, just by clicking on your quote, on any device.
How much detail does an electrical quote need?
It's a balance. Give your customer enough detail that they feel clear and confident about what they're getting… but not overwhelmed. They don't need to know the price of every cable clip.
Giving more detail than the competition can help you win a potential customer's trust, pave the way for a smooth-running job and protect you from any disagreements later. But think about the way you describe the work you'll be doing, and focus on what the customer will get rather than the technical things you'll have to do to achieve it.
Marketing expert Samuel Hulick explains it pretty neatly, with a little help from Mario:
"People don't buy products; they buy better versions of themselves. When you're trying to win customers, are you listing the attributes of the flower or describing how awesome it is to throw fireballs?"
When it comes down to it, the customer's buying the end product, and the benefits it brings, so for example, instead of saying: "External installation of LAP AR0506 LED PIR bulkhead black 670LM 8W", which is pretty baffling to the customer, you could say: "Fitting an LED security light with sensor to garage wall, automatically lighting up the driveway."
💡 Tip: In YourTradebase it's easy to choose the level of detail you want to show, whether that's a full breakdown of material costs and quantities or just the total price with everything included.
How can I make quoting for electrical jobs even easier?
Whether you're writing a quote or an estimate, the biggest thing you can do is stop starting from scratch every time. Use tools that create shortcuts, help you price consistently and speed up the whole process. For example:
Create a quote or estimate template. That way your logo, contact details, trade accreditations, VAT number etc can be already laid out, looking good and ready for you to drop in the job specifics each time. It's easy to do in YourTradebase – just start with one of our templates, save your details and boom, you've got your own branded template ready to use anytime.
Have a templated cover email ready to go. Write a message you're happy to send out with every quote or estimate, then save it and just drop in each customer's name and job details before you fire over their price. Or make it even easier and pick from a whole bank of friendly messages we've already saved in YourTradebase.
Keep track of your prices. Make sure you know where to find prices you've quoted in the past, and whether those jobs were profitable in the end. That way, when a similar job comes up again, you'll have a starting point to work from. In YourTradebase, we automatically save your tasks and prices in your personal price list so it's really easy to look back, pick and choose.
Have a quick, easy way to check materials costs. Lots of the big suppliers have apps you can search quickly even if you're on site, giving you an up-to-date picture of costs and availability. There's more on this on our blog on apps for electricians.
Quote sooner. Less head scratching and memory jogging means quicker, more accurate quotes. And sending them out sooner helps give you the edge on the competition.
Five sure-fire rules for writing better electrical quotes
Price up quickly
Say whether it's a quote or estimate
Give a clear price breakdown
Look smart & professional
Add a friendly note about what's next
What does a great quote look like in YourTradebase?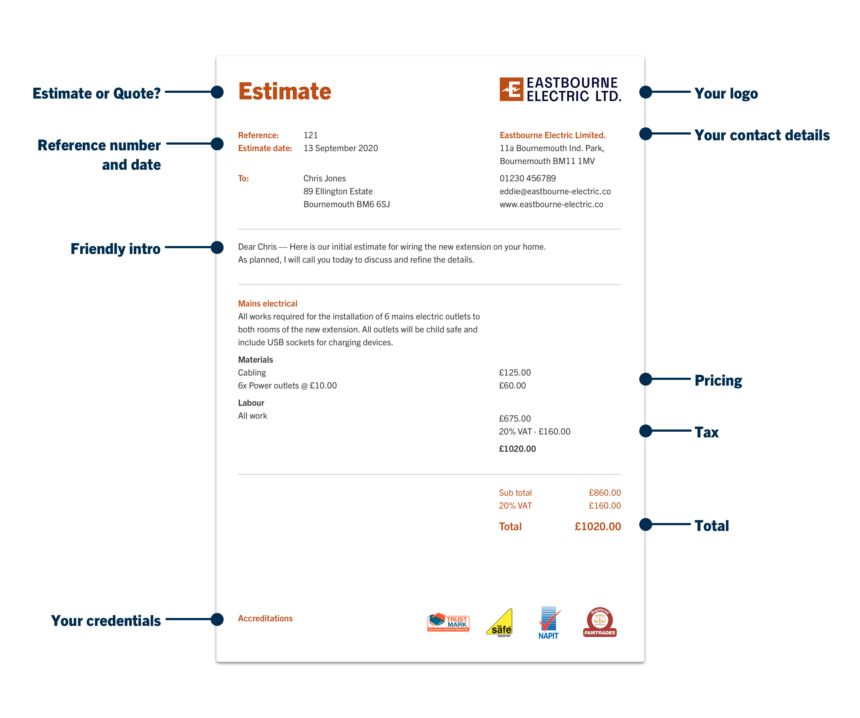 YourTradebase is the quick, easy quoting and estimating app, made for trades. It's packed full of features that take the headache out of pricing electrical work – and help you win more jobs.