People, it's time. Stop struggling with Word and Excel and grab a better power tool for your paperwork…
This new year, make smashing through your admin as easy as it should be.
The right tools make a massive difference. We've all been there, out on site, battling away with a saw that's not sharp enough, a drill that's not powerful enough or a ladder that's not long enough. It's not fun. It makes a quick job a slow one, and a great finish hard to achieve.
It's just the same with paperwork. Struggling with tools that aren't quite right for the job – or up to the job – makes knocking out a quick quote so much harder than it should be. Which means it takes longer to do, gets put off day after day, and doesn't look great even when it's done.
You wouldn't put up with it on site, so why put up with it for your paperwork? All you're doing is adding to your stress levels, eating up more of your evenings, and churning out admin that doesn't do you justice. Better is out there.
Secretary or sparkie?
There's no getting away from it – Word and Excel are powerful tools. They wouldn't be used by millions of people if they weren't. But one size just doesn't fit all. And really, why should something that works for an accountant, a secretary or an HR manager be right for the best builder in Bromley, or the fastest sparky in Southend?
It just doesn't make sense. Every other tool you use is designed for jobs like yours – so why should it be different when it comes to your admin? There are tools out there made for trades – made to suit the kind of work you do, and the kind of days you have. And those tools are a solid investment. Time is money, and they'll help you spend more of it earning, not doing admin.
Fancy making 2020 the year you stop struggling and start using a paperwork power tool that's right for you? Let's take a look…
Time-saving templates
Ok, so there are templates in Word, but they're not exactly geared to getting you paid. They might help you knock up a nice CV or report, but that's not really what you're after, right?
So, look for an app, or piece of software, that gives you templates you actually need – shortcuts that help you blast through paperwork faster and save a tonne of time. At YourTradebase, our reusable templates cover everything from estimates, quotes and invoices to a whole bunch of emails you might want to send.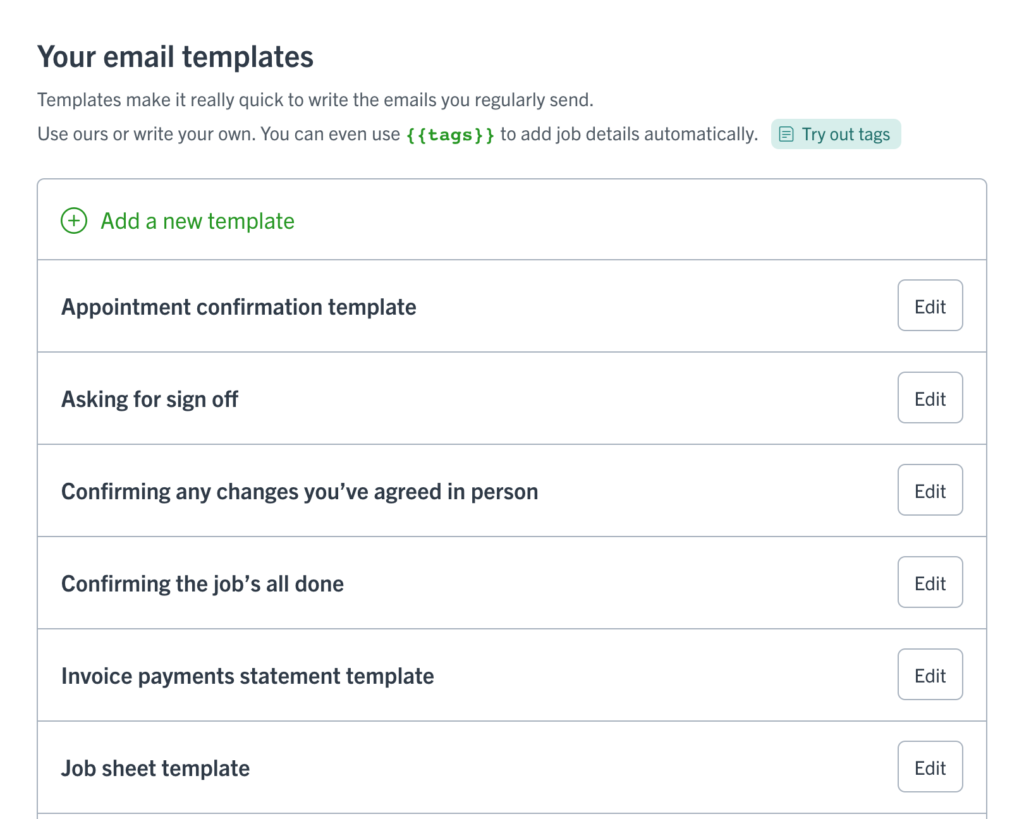 Want to chase up a quote? We've got a template for that. Want to agree a start date? We've got a template for that. Want to confirm a few changes? Yep, you guessed it. The whole point is to help you get your admin jobs done well, in a fraction of the time.
Price lists you can personalise
Another handy thing to look out for are price lists you can build and save, so you can pick and choose tasks, labour costs and materials you use regularly. In YourTradebase you can completely personalise them based on what you usually charge, saving you a tonne of maths time and letting you get those quotes together faster.
Paperwork you're proud of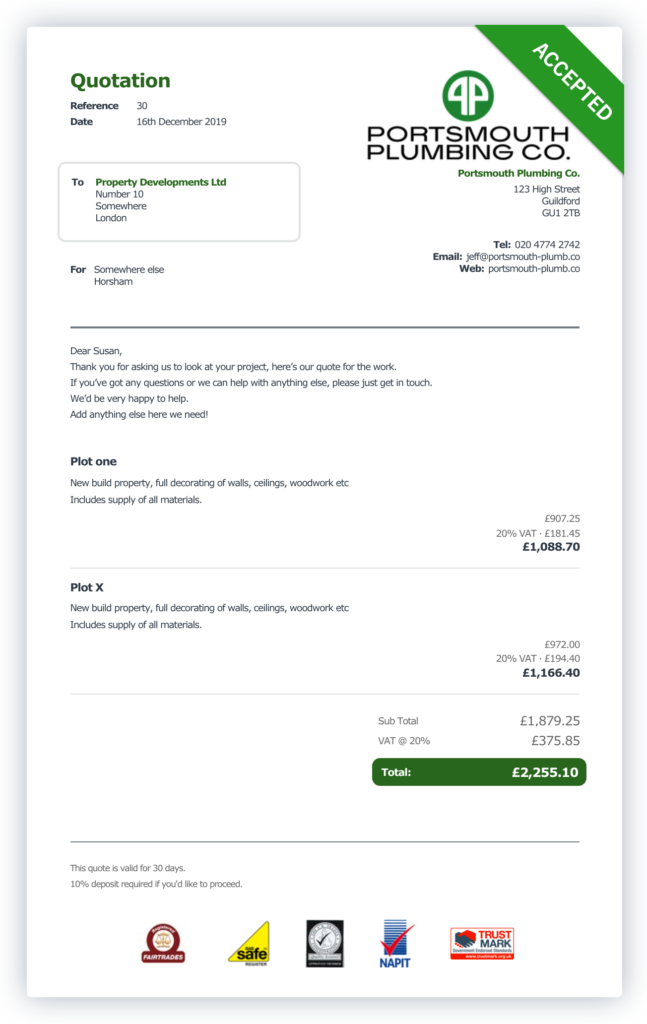 The estimates, quotes and emails you send out are often people's first clue about how professional your set up really is. So don't settle. Look for a system that helps you build paperwork you're really happy with, not just something that'll have to do – paperwork that's complete with your logo, trade association logos and business colours.
Trying to crowbar a logo into Word can feel clumsy, unprofessional and a bit of a struggle. It doesn't have to be that hard. With the right tools, dropping that logo just where you want it is a two-second job, helping you build quotes that give people confidence – and win more work.
Fast ways to find what you need
Trawling through files looking for old notes, quotes and job specs is a frustrating waste of time, and these days you just don't need to do it. Tools like YourTradebase give you a joined-up way to save, store and find your paperwork, without faffing through folders or being tied to you computer.
Just look up a customer and see everything you've ever done for them, in one place, super fast. You can even search your records on site, on your phone, with the customer standing in front of you. You'll look super organised and they'll feel you remember, and value, each of their projects.
Tracking, reminders and other useful stuff
However long you've been using them, Word and Excel aren't going to remind you when it's time to chase up that invoice, or tell you when your customer's opened their latest quote. They're just not built that way. But a tool built for the trades can.
So, take things to the next level by going for a system that lets you track your paperwork, email it instantly, see when it's been read. A tool that tells you when customers need chasing up, rather than letting things drift. It's about taking the pressure off you to remember everything – giving you a nudge when you need one, so you can make the most of every lead, and get paid faster.
Go your own way
The thing to remember is, Word and Excel aren't the only way. You've got options – and they're solid ones that could be real game changers for your business. Finding a system that feels right for you is really important. So try things out and see what works for you.
YourTradebase was designed by trades, for trades, and it does all of the above, plus a tonne more – things like quick customer messaging, linking up to Xero accounting software and even letting your customers view and accept quotes online.
We know how trades work, what makes them tick and the pressures you're under every day – so we've built YourTradebase to be fast, intuitive, straightforward and easy to use on the go. Which means knocking out a quick quote over a cuppa is as easy as it always should have been. If you fancy taking us for a no-strings spin, we even do a free 14-day trial. Ready when you are.
Adam