Costing and managing your materials in YourTradebase just got a lot easier.
We've just launched an upgrade for materials, which includes: improved material searching and saving, material categories and bulk material editing.
Improved material search
Got a big list of materials to choose from when pricing work? Our improved material search will help you find and calculate costs faster.
Try searching and filtering your materials within the materials panel by clicking the 'Search your materials list' button.
You can search your material list and filter by categories and brands.
Clicking a material adds it to your material costs.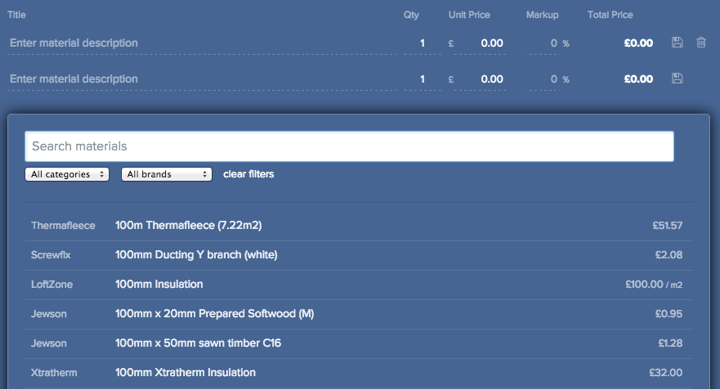 Choose which materials to save
If you want to save a material cost that you've added to a quote or invoice, just click the new 'Save' icon for that material.

Saved materials are added to your material list and available to select quickly when pricing work in the future.
Categorise your materials
Add and manage categories for your materials to filter searches and ensure you're including all the correct materials in each job.
Setup your own material categories in settings > materials then assign categories to your materials.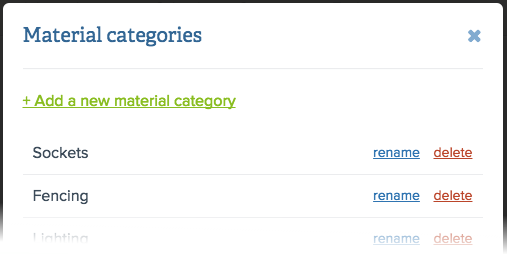 Edit your materials in bulk
Want to quickly change a lot of materials, categorise your materials or increase material markups? Our new bulk edit feature allows you to manage lots of materials in one go.
To start updating your materials in bulk, go to settings > materials and click 'Edit all materials in bulk'.
You can change descriptions, prices or add brand and categories to as many materials as you need. Just make your changes and click 'Save changes to materials' when you're done…
You can even choose to update the markup for lots of materials in one go or adjust the price by checking the relevant materials and selecting an option from the menu that appears.