Your material prices allows you to save your own list of materials and prices for quick selection during pricing and invoicing work.
Materials in your material price list will be available to select within your quotes and invoices, which makes pricing and organising the materials you use regularly quick and easy.
Visit Material prices in settings to review your materials in YourTradeBase.
Adding materials to your material prices
Here's how to add materials to your material price list:
Visit Material Prices in your Settings menu (via the cogs at the top right of your screen)
Click the "Add a material price" button

Enter the details for your material:

Description – required: add a descriptive title for your material. This might include any variations, sizes, or measurements that are relevant.
Price – optional: the price for each of the materials you use. When you add materials to your paperwork, you are able to enter a quantity of material items required. This quantity will multiple by the price you enter here to give you a total price.
Type – optional: how do you measure each material? By pack, metre, m2, etc
Markup – optional: If you markup your materials to cover handling time and expense, then you can enter this here. The markup will be applied to the total price when adding materials to your paperwork.

Click 'Save this material'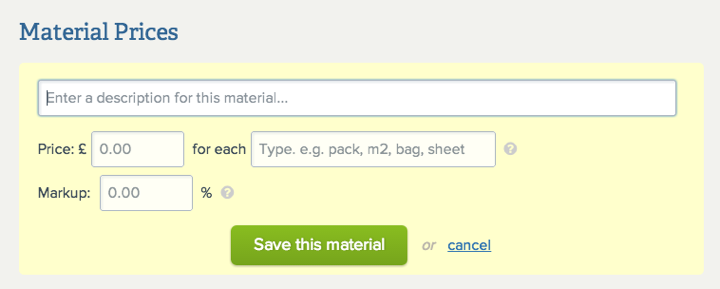 Your material will now appear in your material prices list and be available to select when costing your quotes and invoices.

Materials can also be saved when you enter new materials into your paperwork. Learn more about saving material costs from your paperwork.
Managing your material prices
If you need to make changes to any of your materials details, you can edit your materials:
Visit your Material Prices settings
Click the blue pencil edit icon next to the material you want to change
Update the details as required
Click Update this material when done. Your material will now be updated and available for use in paperwork.

To delete a material you no longer require:
Visit your Material Prices settings
Clicking the red trash icon next to the material you want to delete
You will be asked if you're sure you want to delete the material (it cannot be undone once deleted!), if you click OK, the material will be deleted from your material price list and no longer be available when creating or editing paperwork.
Setting a markup percentage for all materials
If you have a standard markup that you apply to all your material costs, then you can easily set this to apply to all material prices:
Visit Settings (the cogs at the top right of your screen) and select Business settings from the left-hand side
Enter a markup percentage in the Default markup % field under 'Materials Markup'
Click Save settings

The default markup percentage will then be applied to all new materials you add to your materials list or paperwork.
You can adjust this percentage for individual materials, should you need to add more or less markup for specific materials or jobs.
More info on materials: