Upload and store files and attachments for your customers in YourTradeBase.
You can upload the following file formats to your customers:
Images files – gif, jpg, png, bmp, tif
Documents – xls, doc, txt, ppt, pdf, csv
Zipped files – zip, rar
Sound files – mp3, m4a, wav, wma
Files must be less than 10mb in size.
How to upload file attachments to customers
View the customer you want to attach the file for.
At the bottom of the page, click '+ upload an attachment' to open the file uploader.
Click 'Choose File' and select the file you want to upload from your computer.
Click 'Upload this file' to attach the file to your customer.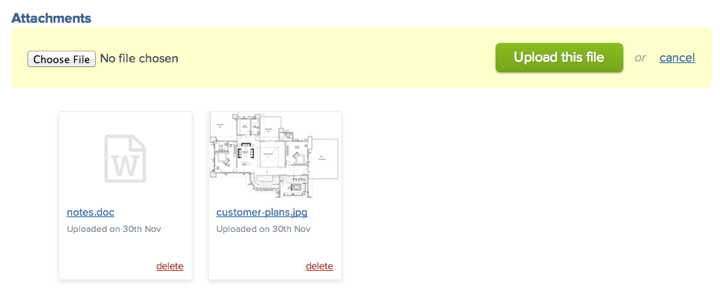 Uploads might take a minute depending on the size of the file.
Once completed, the file will appear underneath the uploader. You can then download and view attachments from any device from your customer page.
To remove an attachment, just click 'delete'.