Use your calendar to schedule your jobs and tasks and see all your upcoming work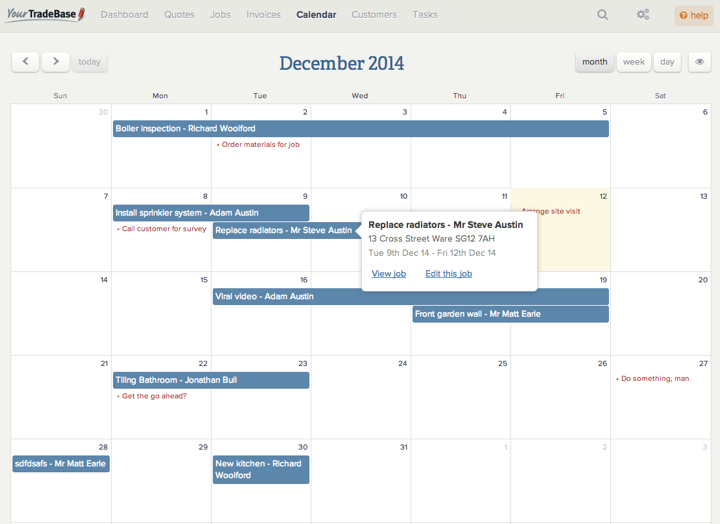 Your calendar can be accessed via the 'Calendar' link in the main navigation bar. Your calendar allows you to:
View your calendar by month, week or day using the buttons at the top-right and navigate through months, weeks or days using the backward and forward arrows at the top-left.
Jump to the current day at anytime by clicking 'today'.

Drag to update job and task dates
You can use the calendar to change the start dates of your jobs or the due date of tasks.
To change the date click and hold the job or task, then drag it to the required date.
The start date or due date will be automatically saved and updated.

Use your calendar to schedule job start dates
Any jobs that have been won but haven't been assigned a start date will be displayed above the calendar under the 'Jobs to be scheduled' heading.
You can schedule these jobs by dragging them onto the calendar at your required date.
The start date that you drag the job to will then be saved.

If your jobs last for more than 1 day, you can also change the duration of your jobs:

Change the duration of jobs in your calendar
Jobs will be displayed on your calendar based on the start and end dates that you set when you create or edit your job.
If you need to change the duration of a job, you can change the end date by:
Hover over the right-hand edge of your job, the cursor will turn into an arrow pointing right
Click and hold the right-hand edge then drag it to the end date you require
Release the job and the job will be saved with the new end date

View job and task details
Click on a job or task to view more details about it.
You can also click the 'View job', 'Edit this job', or 'View tasks' links for those actions.

Filter what is displayed on your calendar
By default, all jobs and tasks are displayed on your calendar.
You can select what appears on your calendar by clicking the 'eye'

icon at the top-right and checking or un-checking the events as required.
Checked events will be displayed on your calendar, un-checked events will not be displayed.

Subscribe to your events in a third-party calendar
You can subscribe to your calendar events so they appear in your Apple Calendar, Google Calendar, Outlook or other calendar that supports the iCalendar format.