However hard you work, there are never enough hours in the day. And the last thing you want to fill them with is paperwork. Writing quotes and estimates takes you away from the hands-on graft that pays the bills – but what if you could crack through it faster with a few nifty apps?
There's a whole load of powerful electrical estimate software out there, designed to help you write electrical estimates faster – and better. Which means you can save time, hassle and hard-earned cash, straight from your phone. With hundreds of electricians' apps on the market, we've picked the hardest-working, easiest-to-use options – tried, tested and loved by sparkies.
Check out our favourite apps for easier electrical estimating…
Let's face it. There's a lot to think about when you're pricing up a job: time, materials, travel, overheads, budgets, competition… Get it right and you won't just win the work, you'll go home well paid and happy. Get it wrong and you might just get stuck with an unprofitable job – while someone else scoops up the great work you can't get to.
Luckily, there's a truckload of helpful software for estimating electrical work out there, making it easier to price up quickly and accurately, protecting those profit margins. We know you're too busy to sift through every electricians' app going, so we've tried a bunch for you, and asked the sparkies we know.
The result? A handy guide to the best electrical estimate software you can fit in your pocket – from cable calculators that help you get a handle on the job, to mileage counters that track those travel costs. Let's take a look.
Measuring and calculating apps for electricians
Electrical measuring and calculating tools can really help you get your head around a job and what it'll take to get it done. The more complex the job, the more useful they are, helping you map out what's needed and design a safe, effective solution. And with all that at your fingertips, it's easier to write an electrical estimate that really covers your bases…
Megger Cable Calc+
A free app from electrical heavyweights Megger, this cable calculator is a go-to tool for loads of electricians. It's stuffed with cable options and volt drop calculations, and it'll help you get to grips with a range of electrical testing instruments too. The best bit (apart from it being free), is that you don't need an internet connection, so you can get instant results, whatever state your site's in.
Electrical Tools and Reference
Electrical Tools and Reference – or The Electricians App – is a really handy chunk of software for electricians that gives you quick, easy access to a whole range of guides, tables and calculators. Print off charts, look up cable ratings, get a Zs value or do volt drop calculations. And while you're at it, work out kVa, fault currents, ring circuits and a shed load more. Handy.
Cable Sizer
This popular app's designed to help you make accurate cable size calculations super fast. Fill in your circuit parameters and it'll tell you which cable to use, taking into account current carrying capacity, earth loop impedance and voltage drop – or set your own cable size and use it to check you're good to go. Again, no internet needed, so it's great out on site.
💡 The right tools help you get to grips with what's needed, for electrical estimates that protect your profits.
Merchants' pricing and sourcing apps
Some of the biggest electrical and trade suppliers now have their own apps, making it quick and easy to check costs, assess availability and order materials on the go. Less guesswork, fewer trips to the merchants and more precise electrical estimates.
As well as giving you accurate prices in seconds, some of these apps let you scan bar codes to find products faster, and most show you what's in stock locally – potentially making a big difference to the materials you choose, as well as your travel costs and project schedule.
Every sparky's got their favourite suppliers – whether they're cheaper than the rest or just easier to get to – so look up your go-to merchant and see what they've got app-wise. You might be surprised how much easier it makes things. We like the features (and the reviews) on CEF's app, and it's worth taking a look at Screwfix, B&Q and Wickes too.
💡 Price up materials like a pro and make a healthy margin, every time.

Travel and mileage apps for small businesses
Getting to sites fast and keeping tabs on your travel costs can make a big difference to the accuracy of your electrical estimates and quotes – and your ability to make a profit. Which is why a couple of nippy travel apps can make all the difference…
Google Maps
These days, using Google Maps is a bit of a no-brainer. It'll help you find the fastest route from A to B, check how many miles to factor into estimates, keep a real-time eye on traffic jams and make sure those further-away jobs don't leave you out of pocket. But there are also some great apps out there to help you keep tabs on your mileage, without a big pile of Post-Its…
MileIQ
This handy app helps you work out your mileage expenses and it's free for the first 40 trips you make each month. Just leave it on and it'll automatically track how far you've travelled so you don't have to remember. It sorts out your personal trips from your business ones, helping you save time – and money – every time you take the van out.
Mileage Tracker
Along the same lines as MileIQ, this app's designed to help you track your trips and pull together all your mileage details so they're ready to use in your tax return. As well as helping you get your annual paperwork in order, it's a great way to get clearer on the miles you're clocking up, so you can start factoring them in whenever you write an electrical quote or estimate.
💡 Travel isn't free. Don't forget to allow for your time, fuel and overheads whenever you write a quote.
Electrical estimating software for trades
We've looked at apps that help you scope out your jobs, price up your materials and make enough on your mileage, but once you've got all that figured out, what can you use to knock out great electrical estimates and quotes, in no time?
YourTradebase
Made just for trades, YourTradebase turns quoting into a quick, easy job you can fit in anytime – on the go, on site, or even on the sofa. It cuts out repetitive tasks, saves important stuff and helps you write electrical estimates faster, the more you do it.
First, the app automatically saves contact details for you and your customers, so you don't have to add them every time. Next, it stores every task, material and project you price up, building a personal price list you can draw from whenever you quote. Once that's done, it adds the right taxes, gives everything a reference number and tots the whole thing up for you. Boom.
You can save your branding so it drops in automatically, and even pick from a ready-to-roll library of trade accreditation and association logos (including NICEIC, ECA, Napit and Elecsa) that give your quotes and estimates extra clout. And if you're ever lost for words, just choose from a bank of friendly quote intros and ready-written emails that'll knock your customers' socks off.
Finally, YourTradebase lets you fire off your estimates, quotes and invoices there and then, straight from the app. You can see when they're opened, answer customer questions and even get instant approvals (with a signature!) right on your phone.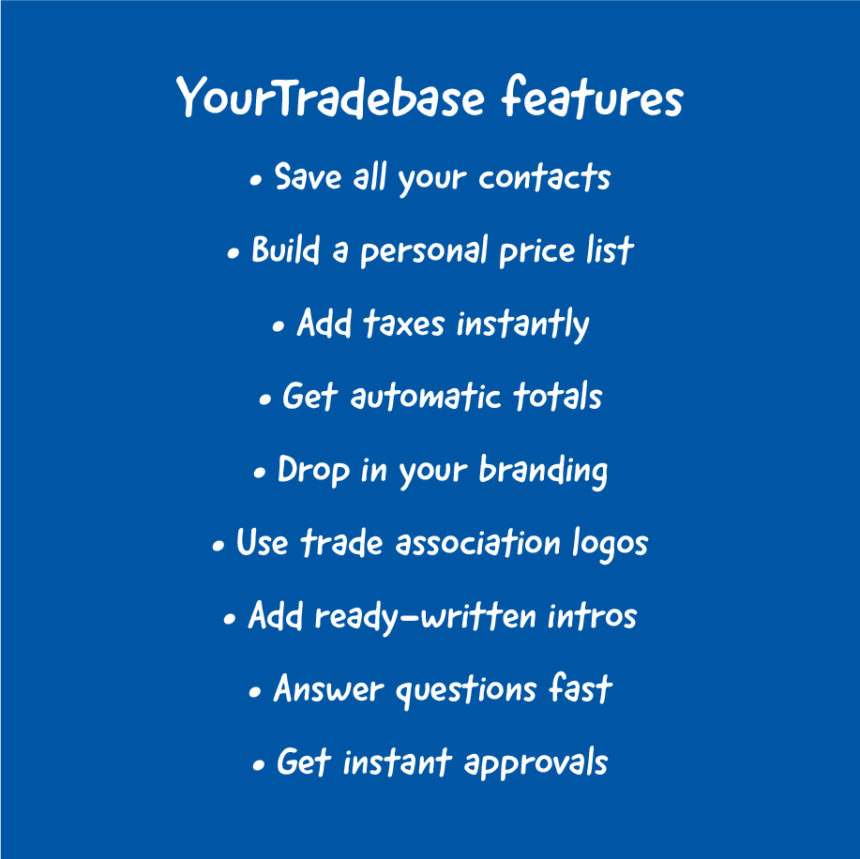 💡 YourTradebase is packed with trades-only tools that make estimating easier.
Powerful tools you can try in minutes
The right tools make all the difference. So save yourself time, protect your profits and make a great impression with electricians' apps that really help you get to grips with pricing – from planning your project to sourcing the best products and sending a totally knockout quote.
We've looked at lots of helpful software for estimating electrical work, and it's all available from the App Store, or whenever you usually get your apps. You can download any of the apps in minutes and use them today – we've got our fingers crossed they'll be game changers for you.
And if you fancy trying YourTradebase, grab a free, no-strings trial today. With a truckload of quick, easy, paperwork-busting tools, it saves tradespeople almost a day a week on admin. Take it for a spin and see how much time it could save you.